Published on Sunday March 24 2013 (AEST)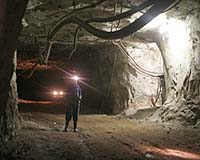 More than 600 people working at a Chinese-operated uranium mine in northern Niger on Thursday began an "indefinite" strike action to protest their working conditions, a union official said.
Union spokesman Alassane Idrissa told AFP that after having staged an initial 72-hour cautionary strike, the action on Thursday rolled into an "indefinite" protest to demand "better life and working conditions" for the Niger staff at the Azelik site which is exploited by China National Nuclear Corporation (CNNC). Idrissa said that despite several agreements CNNC had for four years postponed improved conditions for its workers and has delivered "nothing concrete".
One of the protesters' key demands concerns benefits enjoyed by other mining workers in the region, and which Idrissa said are inscribed in Niger's rule of law. He also accused CNNC of "paying no respect" to neither the environment nor the health of its workers, whom he said "are exposed to radioactivity".
In 2012, CNNC extracted 200 tons of uranium from the Azelik mine, located 200 kilometres from the industrial town of Arlit. Niger is the world's third largest uranium producer, but the landlocked sub-Saharan country's remains one of the world's least developed nations. - Sapa-AFP
.
.